Hello, Friends.
 After more hours spent at work than rest and recreation, you deserve a break. Sit back, pour yourself a glass and enjoy Korean-style fried chicken introduced by Singaporean folks and brought by Alfonso Hortaleza, President of Mindblowing Delicious Food Corporation, to the Philippines in January 2012.
While you won't use only four fingers to eat their crispy fried chicken, you should know that the name of the restaurant "4 Fingers" pertain to four friends who established this fast-food "phenomenon" taking inspiration from eateries in the NY, the Big Apple.
Their first branch was situated in ION Orchard, Singapore lah, but I never have seen it before during my stay there. Now's the perfect chance to dine in and give their food a review. Mom got us two vouchers from Ensogo (LivingSocial) which saved us 48% off the price. We availed of discounted food from 4 Fingers Crispy Chicken at its first branch in the Philippines: SM City North EDSA.
What's in the Deal?
4 Fingers Crispy Chicken Meal: 6pcs. Wings/Drummettes (Soy Garlic/Hot/Mix), includes a small soda/iced tea and fries/rice originally priced at PHp 229
Review of 4 Fingers Crispy Chicken (SM City North EDSA, Quezon City)
Ambiance: ★★★★☆
This smallish outlet can occupy 50 customers more or less. Giving chic and cozy ambiance, the interior style and decors are consistent with those in SG, featuring hanging bulbs and murals that look like a graffiti wall on the streets of New York. Regular movable chairs are made of white plastic, while stable high chairs near the entrance are made of wood. The placement of the seating, I would say, pretty much maximized the limited space of the restaurant.
Red is the theme color, which according to psychology, makes people hungry as it attracts attention and excitement to diners. Maybe it's another way to indicate that diners must go right after satisfying their hunger and finishing their food. Still, it's a good place to sit down and enjoy a meal for long.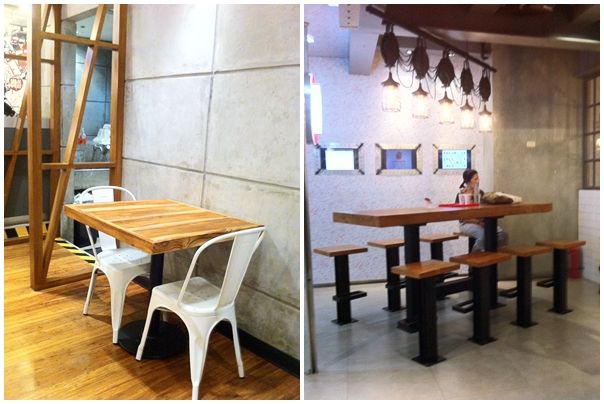 Service: ★★★★☆
Service was nothing to shout about since this is fairly a fast food type of restaurant where customers have to order and pay for their food first at the counter before they get served on the table. For drinks, customers have to go self-service — even for plain water. No special awards for friendly service here though food were quickly served by the crew wearing cool uniforms.
Food: ★★★★☆
I am not really a fan of fried chicken since it conjures up images of clogged arteries and heart attacks. Also, I tend to shy away from chicken wings because they are often known and paired for having messy and unhealthy affairs. Remember the urban legan saying that eating chicken wings can cause cancer? I have not gotten over it quite yet. Anyway, 算了吧 ! One-time eating may do the tiniest bit of harm in our bodies.
My office mates have tried 4 Fingers' crispy chicken last time, and they said the taste and texture are almost the same as Bon Chon's chicken, another famous Korean fried chicken that's been a hit since last year. And yup, that's agreeable. We're not sure if the latter is just renamed or they are under the same management. We can't tell the difference of the taste apart, but it's obvious that their food differ in packaging and presentation. Bon Chon serves meals in regular plates, while 4 Fingers uses funky "tin" boxes as plates.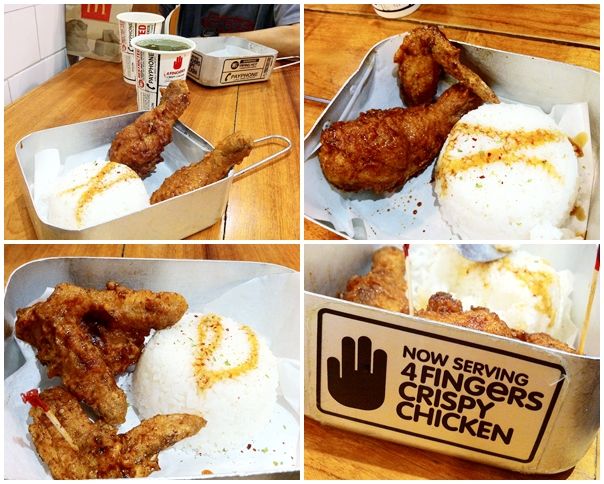 4 Fingers offers three variations of special sauces that are hand-painted on the fried chicken: soy, garlic and spicy sauce. We've only tried the soy and garlic, but I dare say that the spicy one is worth a try. The chickens are twice fried thus are left with minimum amount of grease and moisture. Kudos to the fry cooks and the secret formula that 4 Fingers came up with. I like the crispiness and the salt-and-sweet taste. However, if you want meaty and juicy chickens, this place is not for you.
Compared to Jollibee, McDonald's, KFC, Kenny Rogers Roasters and other similar food chains selling chicken, 4 Fingers' chickens are smaller, with skin that's wafer thin and not full with flour. They are not suitable for those with a heavy appetite. This is probably the reason why they don't sell only one piece or part of chicken in a meal (refer to the menu here).
Additionally, we had two orders of Shrimp & Calamari combo (PHp 189 each) which were nicely fried as well. One platter is good for two people. Flavor and texture wise, the battered shrimp and calamari are above mediocre. Give a pinch of calamansi and you'll get a slightly tangy taste. My mom and my boyfriend both feel that mayonnaise and thousand island dressing are more fitted as condiments here.
For drinks, we had green tea and red tea. Both were too sweet so drinking water after is a must.
Price for Value: ★★★☆☆
Price for individual orders ranges from PHp 150 to PHp 300, and this is okay for fast-food. Even at original price, an order of crispy chicken (wings & drumlets) is not so bad since it's good for sharing. To sum up, the budget-conscious have nothing to worry. There are budget meals even for vegetarians and pescetarians.
4 Fingers pleases customers, especially chicken lovers, making them order another bunch and go back once more. This is stark contrast to the notice imprinted on the cup:
So how? I have just told everyone their secret.
Does that make me a tattletale?
4 Fingers Crispy Chicken SM City North EDSA (beside National Bookstore)
G/F SM City North EDSA, Main Building, North Avenue, Sto. Cristo, Quezon City
For inquiries, call (02) 376-7543
Facebook
Other branches:
SM Mall of Asia (Pasay City)
Acqua Residences (Mandaluyong City)